If you have a backyard pool and you still find yourself frequently bored, that's a sign you haven't heard about the advantages of pool enclosures you're about to read!
We all know that people install swimming pools in their backyard just because they like swimming. Aside from the obvious health benefits, they're after the fun and relaxation swimming pools offer.
Just laying out at the poolside is one of the best things to do. Imagine listening to a relaxing poolside playlist while reaching out for your refreshing beverage and snacks nearby. Isn't that satisfying? How much more if you have access to that enjoyment anytime you want?
Discover The Advantages of Pool Enclosures
It provides an all-year-round fun experience for the family.
Whether it's winter or summer, pool enclosures always make it a good time for swimming. Because pool cages filter the sun and retain heat, you and your family wouldn't be worrying about UV skin damages or extreme cold while swimming.
Without restrictions, the kids can go on pretending to be deep-sea divers while you lounge with a good book at the poolside, and the other adults exchange funny stories over a glass of wine.
It makes your swimming pool your temporary gym.
Because you can use the swimming pool any time of the day for as long as you want (thanks to pool enclosures), you might as well swim for the sake of your physical health.
Swimming is a great total body workout! Swimming does not only exercise your legs but also engages your upper body and core.
Would you believe that swimming for an hour is as good as an hour of running? Like running, swimming boosts your heart rate and strengthens and tones your upper and lower body muscles.
It beautifies your swimming pool.
Make your swimming pool your unique sanctuary by installing stylish yet functional pool enclosures. Pool enclosures come in different types and designs you can choose depending on your taste.
For example, if you want to add appeal to your house architecture, a Lean-to pool enclosure that can be opened and closed is highly recommended. An enclosure with a traditional design also looks best if you already have a waterfall in place. Make sure to install the enclosure in a way that the waterfall adds beauty to the columns.
Moreover, decorating your pool enclosures has no limits. Small palms and cycads (like sago palm) work great if you want to bring a tropical look to your pool. Not only that, building LED lighting in your pool screen enclosure can put more life and drama into your swimming pool.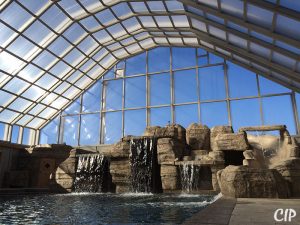 It makes your pool a safe, fun place for your children.
One of the most significant benefits of a pool enclosure is that you can manage who enters your pool. Peace of mind is priceless! You can rest your mind that your little ones are safe and would not incur fall accidents with or without an adult looking.
Also, animals like rodents or snakes will not be able to enter your pool. You wouldn't wish these unwanted visitors to sabotage the tidiness and sanitation of the pool area.
It helps you reduce your pool maintenance cost.
With your pool enclosed, you will save on heating costs. The roof of swimming pool enclosures comprises polycarbonate panels that trap solar energy like a greenhouse.
They act as insulators wherein the heat is retained, making your pool area warm. With that, you can delay turning the heater on the following day.
Read also How Much is a Swimming Pool Maintenance Cost
It makes your pool cleaning less often.
Among the most known advantage of pool enclosure is it acts as a barrier between the swimming pool and the external environment. It keeps your pool free from debris, twigs, leaves, insects, and animals, so you can spend more time swimming rather than cleaning your swimming pool.
When building your pool enclosures with aluminum framing, polycarbonate-paneled roof, and acrylic-glazed walls these components work hand in hand to increase your pool enclosures' resistance to moisture, color change, chalking, etc., so you wouldn't have to worry about being so hooked on maintaining your pool's cleanliness.
It lessens your use of chemical irritants.
By far, chlorine is the most common chemical used to treat swimming pool water. It prevents algae and bacterial growth.
With swimming pool enclosures, you can reduce your exposure to necessary chemicals like such. Since pool cages prevent the entrance of dirt to your pool, your pool water stays balanced. As a result, you don't have to adjust or stabilize the pH of your pool water repeatedly.
Bottom line: Pool enclosures are more of an investment than an expense. With all the practical advantages of pool enclosures to the countless memories you can create in your swimming pool, leave no doubt because pool enclosures are worth it.