Aside from learning about how much retractable pool enclosures cost, it is crucial that you get the size fitted to your pool. The typical prices of these enclosures range from £500 to £700 per square meter. The total cost will depend on the pool's size, wind load, configuration, layout, and other design elements included.
As the pool owner, you must relay all these critical factors to the company handling the retractable pool cover project. This way, you will get the product suited to your requirements.
The Importance of a Swimming Pool Enclosure
A swimming pool enclosure is an architectural product or a building edifice meant to provide protection to the pool and deck area. It makes your life easier because you wouldn't need to clean the pool often to get rid of debris.
Whether you have an outdoor or indoor swimming pool, you can have a cover installed. However, it is best to get professional services for the task since it has to meet building codes and would require a solid foundation to be built.
Each location needs to have stamped engineering drawings submitted to the city or local town's office to meet the requirements. The process is required to obtain approval for a building permit before installation. This way, the project will surely be safe and meets the necessary wind and snow load requirements.
Determining the Retractable Pool Enclosures Cost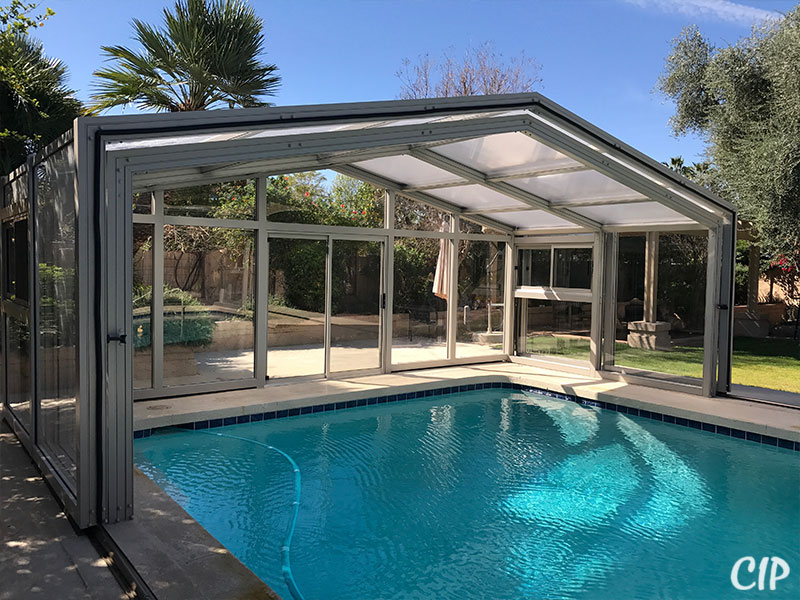 How do companies determine the price for a retractable pool cover? Here are the top factors in estimating the total pool enclosure cost:
Design
The pool enclosure cost will depend on the design – will it be attached to an existing structure, or will it be a freestanding enclosure?
In cases when there is an existing structure, the installers need to adjust the attachment depending on the height and interface of the structure. This may require a lower cost than a freestanding enclosure, especially when it is not necessary to have a wall section. However, you may need to shell out more money if a housing interface is required.
Size
This is the basis of the total retractable pool enclosures cost. Typically, the bigger the size of the enclosure, the lower its price per square meter is going to be. However, the overall cost for big-sized enclosures will still be higher since they will require more construction materials and a longer time to install.
Retractable or fixed?
What's the difference between retractable and fixed pool enclosures, and which type would cost higher?
Fixed pool enclosure
A fixed pool enclosure is more cost-effective since you can no longer move it once installed. To provide the area with shady spaces that are especially helpful in summer, you can add sliding doors, windows, or bi-fold doors to the enclosure.
Retractable pool enclosure
On the other hand, a retractable pool enclosure can be moved. It is more complex, which explains the higher costs you need to allocate if you prefer this type. Retractable pool enclosures are also called telescopic pool enclosures.
They have moving and fixed sections. During warmer months, you can open the moving parts to uncover the deck and pool areas. These moving parts, called bays, can be under each one or slid over. The bays can give you an outdoor or indoor pool effect when you close or open the enclosure.
These bays can be moved manually, and they typically require two people to open the enclosure, which will take around 10 minutes or less.
However, this might be too taxing for some pool owners. In this case, you can request telescopic pool enclosures with an electric drive system. This way, you no longer need to open or close it yourself since it will automatically open or close whenever required.
Framing materials
The pool enclosure price is also influenced by the structural framing materials used. They can range from aluminum, steel, and wood.
Among these materials, aluminum has proven to be the most durable. It does not corrode even when used in an indoor swimming pool setting. It also doesn't rust even when exposed to frequent moisture.
For enclosures made from steel or wood, you need to have an HVAC system installed due to the high humidity created by the pool's water evaporation. They also require regular maintenance if you want them to last. If you have an enclosure made of steel or wood, you have to add the price of an HVAC construction and the electricity it requires to run to the total pool enclosure cost.
Glazing
The glazing covering the enclosures can be made of laminated glass, tempered glass, polycarbonate, or acrylic.
Among these materials, the most cost-effective are polycarbonate and acrylic. They are also sturdier and will last longer than glass. However, condensation may be more visible when the temperatures outside are cooler than in glazing made from glass.
If you prefer glass, it is recommended to use laminated or tempered for safety reasons. Glass is heavy, so make sure that you avoid hitting it with pool equipment or the pool skimmer pole to lower the risk of the glass breaking and causing accidents.
Wind and snow loads
You have to get your pool's construction assessed by an engineer to determine the wind and snow loads in the area. The pool enclosure design must follow the wind and snow loads you typically get in the place where the pool is. This will ensure the product will last long and you will get the worth of the total pool enclosure cost.
The rule here is that the higher the wind and snow loads, the bigger framing and larger structural members you will need for the enclosure. While they will add to the product's final price, you will be assured that it can withstand any weather and will last.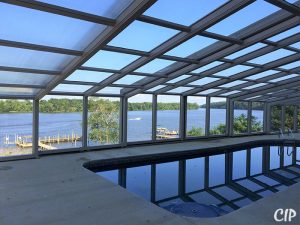 Final Calculations – How Much Will the Project Cost?
Considering all the factors above, it is safe to estimate the average pool enclosure price ranging from £500 to £700 per square meter; plus, you also have to add to the total installation cost, site preparation, shipping, and applicable taxes.
Have you decided which kind of pool enclosure you need? If you have, you can get in touch with us for more details and a more accurate estimate when it comes to pricing.
Meta Description
This article explains how to compute retractable pool enclosures cost and the factors that affect them, including size, materials, framing, and wind and snow loads.